Download TradeSim Prepurchase Trial Pack A$75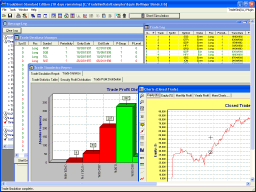 BullCharts users can now take advantage of the state of the art backtesting capabilities of TradeSim
TradeSim is the first realistic true portfolio trading simulator and back tester available for BullCharts. It can easily test portfolios with 100,000 trades and more only limited by your computer resources ! For the first time you can back test your trading system the way you would trade it and objectively analyze its performance!
TradeSim is available for A$75 for the Prepurchase Trial Pack for the full Enterprise Version. There is only one version to download but includes the features of the Standard and Professional versions as well. The differences are explained here
You will receive a key by email to unlock the trial once you order. The trial lasts for 30 days. The A$75 will de deducted from the purchase price if you decide to buy. Sorry there is no free trial, however we do believe it is one of the best backtesting programmes available in the market.
Download
Click here to download the setup file for TradeSim Final Release (approx size 16 Mb)
Quick Start Guide
Please download the Quick Start Guide for BullCharts here